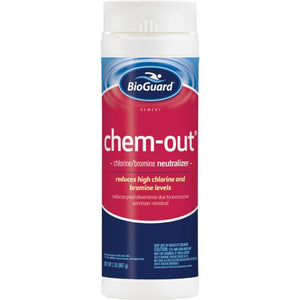 Description
- Reduces pool down time due to excessive chlorine and bromine residuals.
- Allows swimmers to re-enter pool faster.
BioGuard Chem-Out reduces chlorine, bromine, or hydrogen peroxide deposits in pool water. This product is intended to shorten swimming downtime due to high chlorine levels. It will not affect pH levels, so there will be no readjusting necessary after use of this product. Chem Out is also great for neutralizing chlorine or bromine when converting a pool to Soft Swim. In addition, it is sometimes necessary to lower chlorine or bromine levels when treating severe metal stains and when dealing with metal problems.
---
Dosage
Use dispensing cup(C)* provided with this product only